Saturdays and Sundays, January 25 to February 23, at 2 p.m.
Location
Mount Royal Park, Smith House
1260 chemin Remembrance
Montréal, QC
H3H 1A2
Accompanied by a guide from Les amis de la montagne, explore the snow-covered forest of Mount Royal while discovering its fauna, flora and history of mountain sports. Stop for hot chocolate in the heart of the forest. Snowshoes are provided. Note that there will be no excursion on Saturday, February 15 and Sunday, February 16.
Starting point of excursion: Smith House

Rates:
12-15 years old: $17
16 years and over: $22
This guided excursion is offered in French only
Mount Royal is your one-stop destination for winter fun! After snowshoeing, why not take advantage of the skating rink, tobogganing lanes or cross-country trails? Our equipment rental service has everything you need to make the most of the great outdoors. Top it off with a snack, warm drink or quick meal at the Café des Amis! See our winter programming.
Cancellation or Refund
Please note that your registration is non-refundable and non-transferable to another date. Should Les amis de la montagne decide to cancel the activity due to weather conditions, we will contact you by email one day in advance to let you know and you will be refunded.
photo: freddy arciniegas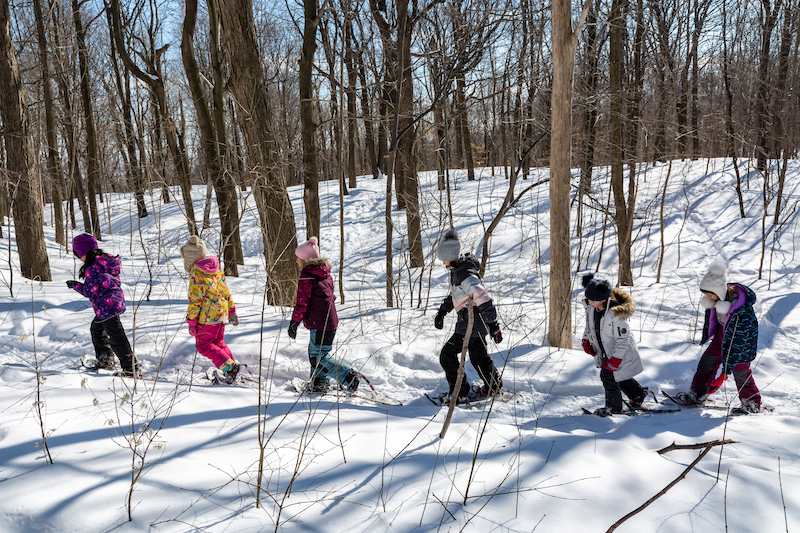 Registration
| Name | Available Places | |
| --- | --- | --- |
| Saturday, January 25, 2 p.m., in French | 15 | Registration |
| Sunday, January 26, 2 p.m., in French | 6 | Registration |
| Saturday, February 1, 2 p.m., in French | 20 | Registration |
| Sunday, February 2, 2 p.m., in French | 20 | Registration |
| Saturday, February 8, 2 p.m., in French | 20 | Registration |
| Sunday, February 9, 2 p.m., in French | 20 | Registration |
| Saturday, February 22, 2 p.m., in French | 20 | Registration |
| Sunday, February 23, 2 p.m., in French | 3 | Registration |