Fridays and Saturdays, January 3 to March 7, at 6 p.m.
Location
Mount Royal Park, Beaver Lake Pavilion
2000 Chemin Remembrance
Montréal, QC
H3H 1X2
Discover the secrets of Mount Royal, its trails and breathtaking views of the city lights from amazing vantage points. Snowshoes are provided for each 90-minute excursion. Note that there will be no Traditional excursion on Friday, February 14.
Mount Royal is your one-stop destination for winter fun under the stars! After snowshoeing, why not head over to the skating rink or snow tubing lanes? Our equipment rental service has everything you need to make the most of the great outdoors. Top it off with drinks and food at the Café des Amis! See our winter programming.

Starting point of excursion: Beaver Lake Pavilion
Duration: approximately 2 hrs (preparation + 1,5 hr hike) on an intermediate level course (climbs and descents) of 3 km
Rates:
12-15 years old: $17

16 years and over: $22
This guided excursion is also offered in French.
Cancellation or Refund
Please note that your registration is non-refundable and non-transferable to another date. Should Les amis de la montagne decide to cancel the activity due to weather conditions, we will contact you by email one day in advance to let you know and you will be refunded.
photo: Alexandre Cv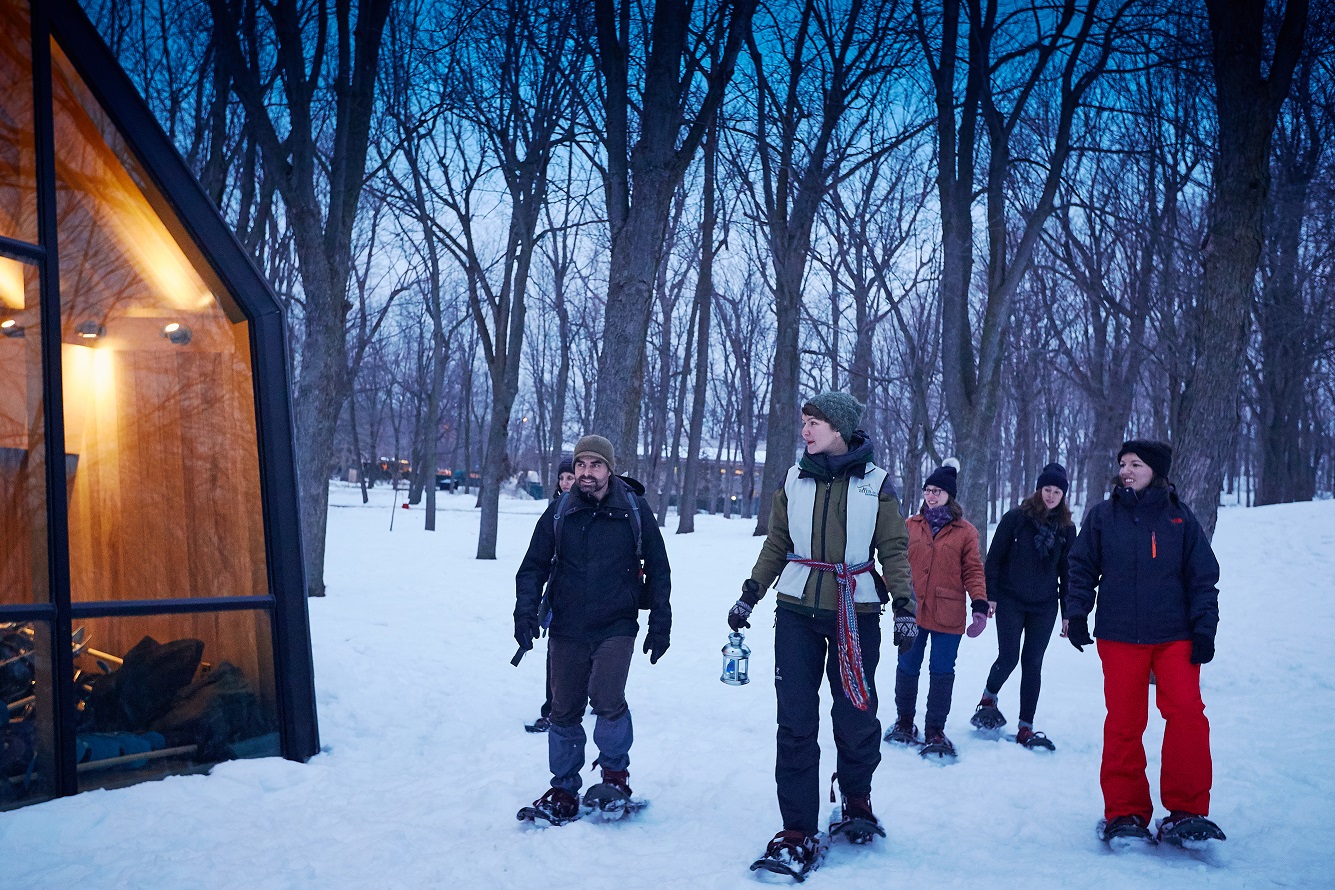 Registration
| Name | Available Places | |
| --- | --- | --- |
| Friday, February 21, 6 p.m., in French | 33 | Registration |
| Friday, February 21, 6 p.m., in English | 27 | Registration |
| Saturday, February 22, 6 p.m., in French | 29 | Registration |
| Saturday, February 22, 6 p.m., in English | 36 | Registration |
| Friday, February 28, 6 p.m., in French | 34 | Registration |
| Friday, February 28, 6 p.m., in English | 38 | Registration |
| Saturday, February 29, 6 p.m., in French | 35 | Registration |
| Saturday, February 29, 6 p.m., in English | 38 | Registration |