ICE STORM UPDATE:
Following the ice storm on April 5th, there are still a number of areas that need to be cleared. To ensure your safety, please avoid paths in wooded areas and respect the signage in place.

Summer Site Conditions:
Les Amis de la montagne wants to make sure you have a great time on the mountain. Check the icons below to see if conditions on site are suitable for equipment rentals and certain outdoor activities. As for the various indoor facilities, if they are not listed below, they are open. Click on the following links for the opening hours of the three Café des Amis locations or the gift shops at the Mount Royal Chalet and Smith House.

Red: Closed or inaccessible
Green: Open, conditions are good
_______________
Outdoor conditions were updated on September 27th 2023 at 09:30 am.

Closures & work in progress in and around the park
Before coming to the mountain, whether by car, bicycle or public transit, we recommend that you check the status or accessibility of the roads and paths leading to Mount Royal. Roadwork, sporting events or other activities may cause delays or require road closures. Click here to see and download map of Mount Royal Park.

Visit the STM site before planning your route!
Les amis de la montagne keeps you informed of work done by the City of Montréal in and around Mount Royal Park as well as any closures of park entrances.

The status of closures and work done in Mount Royal Park was updated on September 11, 2023.

The following operations and events will impact access to and within the park:
From July to late fall 2023: The Beaver Lake Pavilion will be closed due to major repairs to the exterior of the building being carried out by the City of Montréal. It is important to note that the Café des Amis has already been closed in preparation for the start of work. Our other two cafés at Smith House and the Mount Royal Chalet will remain open every day!

A restroom trailer and snack bar will be set up near the lake during the closure period. For more information, visit the City of Montréal Info-travaux website or call 311.

June 18 to September 17, 2023: Every Sunday morning from 7:30 to noon, Camillien-Houde Way will be reserved for pedestrians, cyclists and other sportspeople. During this period, Camillien-Houde Way will be closed to motor vehicle traffic between Mont-Royal Avenue and Smith House. However, the mountain and cemetery will remain accessible. A free shuttle bus service will be offered from 9 a.m. to 12:30 p.m. The shuttle will leave from Laurier metro station and follow a special route up to the mountain. You will still be able to get to the summit of Mount Royal via Remembrance Rd.
Spring 2021 to Summer 2024: Redevelopment of the intersection of Chemins Remembrance and Côte-des-Neiges will impact access to Mount Royal park throughout the projects many phases. Consult the City of Montréal's description of the project to keep track of impediments to traffic.

September 2022 to October 2023: Reconstruction and refurbishment of the Camillien-Houde staircase. The goal is to restore the staircase to its original glory, making it look exactly as it did when it opened in 1996. Click here to consult the plan

From Thursday, September 8, 2022 to December 2024: Mount Royal's Marsh sector will undergo work to protect the ecosystem and provide better access to the mountain. As a result, the trails in the Swamp sector and the access trail from Olmsted Path to the Mount Royal Chalet and Kondiaronk Belvedere will be closed. More specifically, he summit loop will be closed from September 11 to the end of October. (although one will be kept open for hikers, cyclists and authorized vehicles). Click here to consult the plan
Learn more
Winter Site Conditions
(Applicable from December to April each year)
Late winter update: Especially at this time of year, we're at the mercy of nature's whims! Please note that we may have to close our recreational sites (skating rink, snow tubing and sliding lanes, etc.) earlier in the day than scheduled for safety reasons.
As illustrated below, Les amis de la montagne shares updated observations on path, trail and rink conditions, so that you always know what is open or closed in the park. Click here to see and download map of Mount Royal Park.

Red: Closed or inaccessible
Yellow: Conditions are difficult or not optimal
Green: Open, conditions are good
_______________
Outdoor conditions were updated on April 19th, 2023, 9:25 a.m.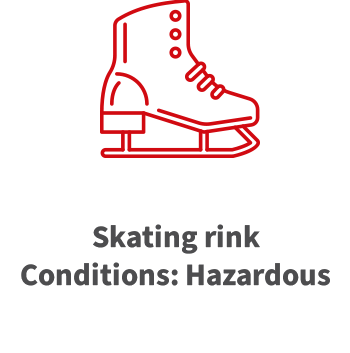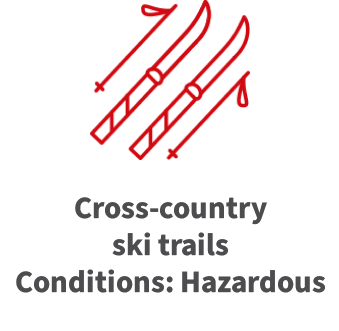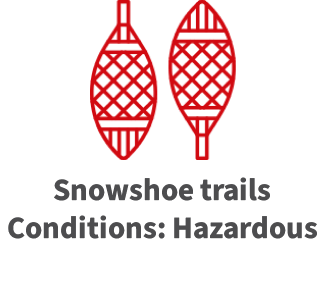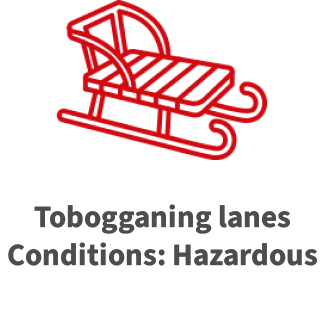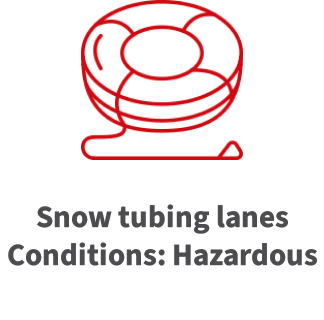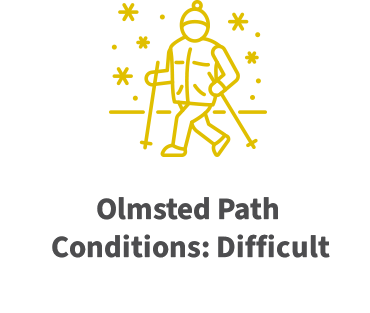 Please note: The City of Montreal is responsible for maintaining the outdoor installations in Mount Royal Park. For conditions in detail, please consult the City of Montreal's website.