The City of Montréal and Les amis de la montagne continue to ensure the highest public health measures to help limit the spread of COVID-19, while maintaining safe access to the mountain's parklands. Mount Royal Park, in addition to our visitor welcome, gift shop and food and beverages services (take-out menu only), remain open and accessible to visitors wishing to enjoy an outing to the mountain. Note that during peak periods, public authorities reserve the right to limit or close access to parking lots next to Beaver Lake and Smith House.
As Montréal is at the "green zone" watch level,
Les amis de la montagne's programming
must continually adapt to current public health directives. Taking advantage of nature on the mountain remains possible as long as all respect health and safety rules!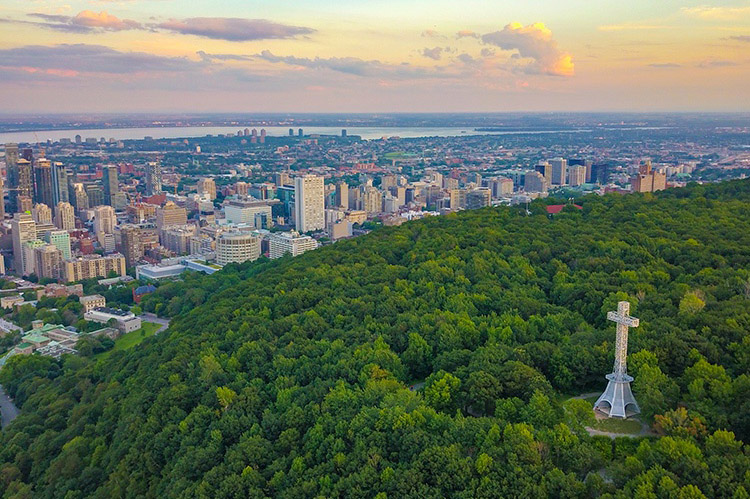 crédit: PixupMtl
Park User Services
As much as possible, physical distancing guidelines must be respected during sports and physical activities. Participants can come into contact or be in close proximity, if this is done briefly and infrequently.
Face masks are mandatory in all park buildings.
The welcome desk and boutique operated by Les amis de la montagne in Smith House is open every day, from 9 to 5 p.m.
Visitors have access to restrooms in the Beaver Lake Pavilion, Mount Royal Chalet and Smith House parking lot. (Please note that no restrooms are available inside Smith House.)
In order to maintain physical distancing, visitors are requested to respect one-way traffic inside buildings. Signage identifies entry and exit points.
Café des Amis
Mount Royal Chalet: Located next to the Kondiaronk Belvedere, this location offers a variety of drinks and snacks for take-out. Open every day from 10 a.m. to 7 p.m.
Beaver Lake Pavilion: Overlooking Beaver Lake, this location features a terrace* and offers visitors a wide selection of hot drinks and meals for take-out. It is also the pick-up point for picnic baskets and barbecue meals ordered in advance, on line at menu.lemontroyal.qc.ca. Open Monday to Thursday, 9 a.m. to 6 p.m., and Friday to Sunday, 9 a.m. to 9 p.m.
Smith House: This former private residence is home to a café, in addition to other visitor services. It features a terrace* and offers a choice of drinks and light fare for take-out. Open Wednesday to Sunday from 11 a.m. to 7 p.m.
*Please note that all interior dining areas remain closed until further notice. Leashed dogs are allowed in the terrace/outdoor seating areas only.
Accessing Mount Royal Park
The following operations will impact access to the park:

Tuesday, September 7 to Winter 2021: Access to the Trafalgar entrance will be closed from September to the end of November. Portions of the pathways will also be closed in the various work zones. The serpentine road at the Peel entrance will remain open or partially blocked. This work is intended to replace or improve existing facilities and structures in four sectors of Mount Royal Park. Click here to consult the plan.

Monday, August 16 to Spring 2022: excavation work will take place on Olmstead Road in the area of the Chalet Mont-Royal and will hinder access to the Kondiaronk lookout. Two detours are proposed: one for pedestrians (450 m) and the other for bicycles and authorized vehicles, the summit loop (2 km). Only emergency vehicles will be able to get to the Belvedere via the open path on the east side. The chalet will also remain closed, while the outdoor washrooms will remain open to the public. Click here to consult the plan.

Spring 2021 to Summer 2024: Redevelopment of the intersection of Chemins Remembrance and Côte-des-Neiges will impact access to Mount Royal park throughout the projects many phases. Consult the City of Montréal's description of the project to keep track of impediments to traffic.
Before heading to the mountain by car, bicycle or public transit, we suggest you always check the condition or accessibility of roads leading to Mount Royal. Road works, sports events or other events might cause delays or street closures. Visit the following sites to better organize your trip: Info-Travaux (road construction) STM (public transportation) or Google Maps.

Stay tuned for park updates by checking this page and our social media on a regular basis.